Setting high-level objectives is often perceived as a straightforward task, but many businesses grapple with the challenge of demonstrating how their employees' efforts contribute to the company's broader vision. However, a solution exists – breaking down these high-level goals into more manageable, digestible pieces using Objectives and Key Results (OKRs). 
OKR, an acronym for Objectives and Key Results, offers a methodology to guide your endeavors, magnify your impact, establish alignment, and unify your entire organization under a shared vision. 
At its essence, OKRs are elegantly straightforward: they involve decomposing your ambitious goals into clear, measurable, and attainable outcomes. OKRs offer a roadmap to success that significantly bolsters employee engagement, a critical factor in achieving better results, attracting more customers, enhancing customer satisfaction, and retaining employees – all supported by extensive research.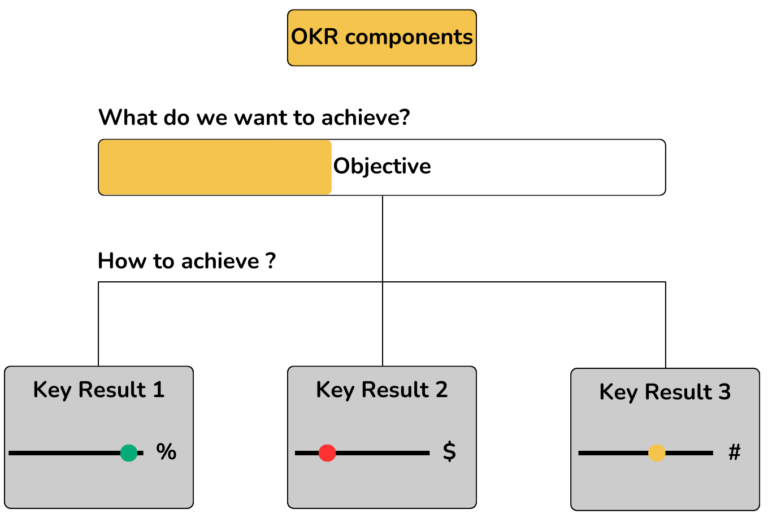 The Components of OKRs comprise two integral elements: 

Objectives: Objectives represent the pivotal goals that serve as pillars supporting your company's overarching mission. They play a vital role in promoting transparency and alignment by propagating the idea that every facet of the organization is working in harmony towards a common objective. 
Key Results: Key Results are the critical milestones that mark your journey towards accomplishing your objectives. They delineate the path to reaching your goals, often functioning as interconnected pieces of a broader puzzle. 
To make your entry into the world of OKRs as seamless as possible, we've crafted a user-friendly Excel template that's available for you to download completely free of charge. This template simplifies your goal-setting process, ensuring a smoother journey for you and your team towards greater achievements. Simply click the link at the end of the blog to get started! 
OKRs are all about fostering efficient teamwork, enhancing cohesion, and ensuring accountability, all of which are geared towards elevating your team's performance. When you employ an appropriate OKR, you stand to gain numerous advantages. The Following steps are important to get the best results out of your OKRs, whether it is with the template or the software: 

Define Strategy Goals: The OKR framework allows you to narrow your strategy and focus on effective initiatives. So, don't try to do too much at once. Two to five goals per OKR period are a realistic number to keep teams motivated without feeling overwhelmed. 
Choosing Key Results for Success Tracking: Like your goals, focus on just a few key results. Key Results should empower you to achieve the associated goals. Be specific and not afraid of numbers; this allows you to track progress and know when to realign your strategy or set new goals. 
Deciding How to Measure Key Results: 
Numeric measurement (e.g., reaching 569 companies)



Percentage measurement (e.g., a 23% increase in revenue)



Yes/No measurement for project completion (e.g., new feature for recommendations)



Currency measurement (e.g., achieving $2,345 ARR per distribution partner)



Assigning Values to Key Results: Now that you know the best metric for each key result, it's time to enter them into your OKR template. Always remember that the ideal OKRs should be ambitious but not easily achievable – nor impossible. For example, achieving 75-80% is a good indicator of a high-impact key result, while quickly reaching 100% shows that a key result was not ambitious enough. 
Assigning a Leader or Owner: Encouraging your employees to take ownership is not just about ensuring that things are getting done. It's also about showing everyone that their work is valuable and contributes to advancing the company's vision. When everyone feels involved, your company will achieve much more. 
Setting a Deadline: As mentioned earlier, we recommend quarterly cycles for your OKRs. Set a deadline at the goal and/or key result level.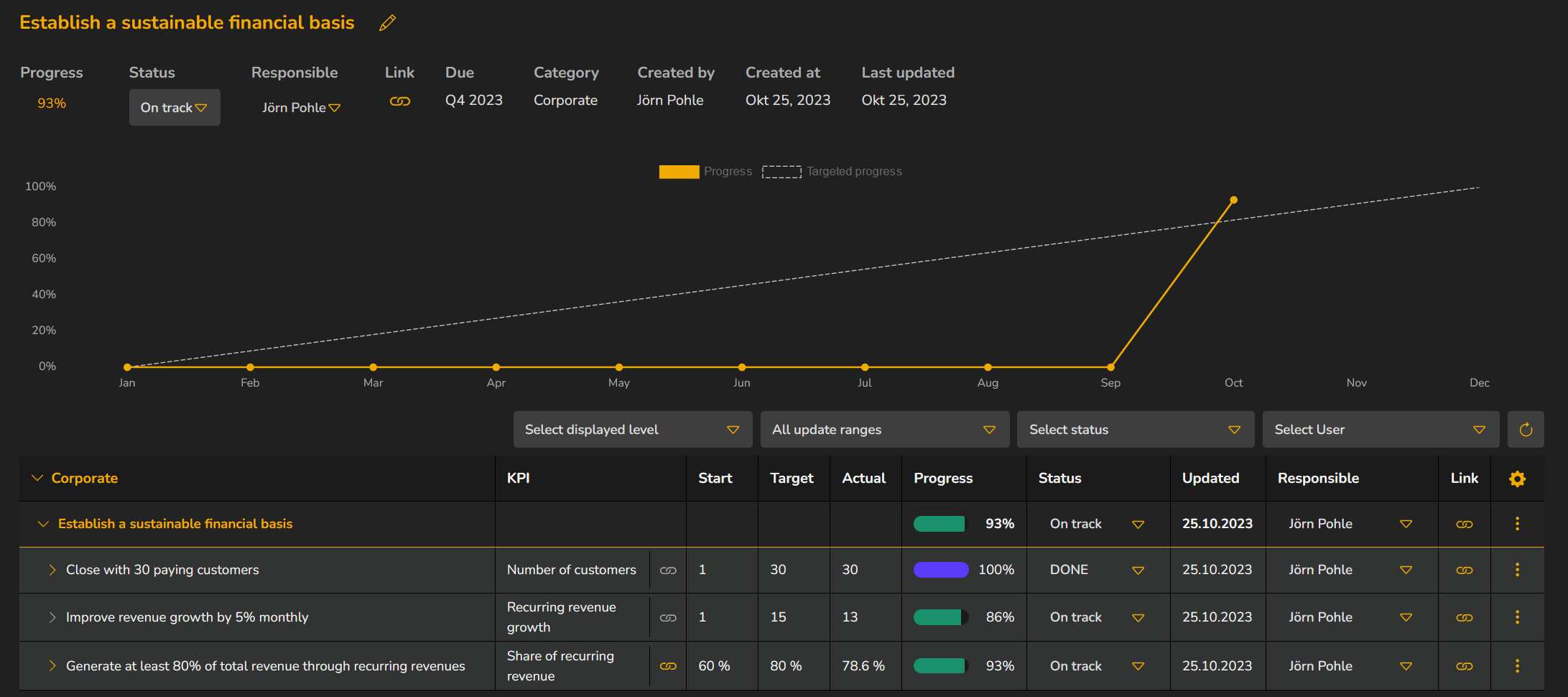 Motivating All Stakeholders
You now understand the pivotal role of OKRs in achieving alignment and enhancing employee engagement. It's time to introduce OKRs to your team. With ValueWorks, your team can effortlessly monitor and measure their involvement in OKRs, ensuring clarity of results and motivation to strive for more. 
When individuals realize their work makes a positive impact, they are more likely to achieve outstanding results. Taking personal responsibility for crucial initiatives is a significant part of this equation. With ValueWorks, tracking and measuring OKRs, and delivering results becomes a weekly exercise, ensuring everyone is aligned and engaged in the company's objectives. 
Choosing the Right Tool for Your Goals
Two common approaches exist for setting and managing goals: 
OKR software: This option is the ideal choice for larger companies with multiple teams and more than 10 members. 
Google Sheets/Excel: This alternative suits smaller teams with fewer members, typically less than 10 users. It provides a simple OKR template to get you started. 
Initially, Google Sheets or Excel may suffice for smaller teams, with fewer than ten users. You can select a basic OKR template and get started. However, as organizations grow and their needs evolve, they often find that spreadsheets have limitations that hinder their progress. 
For many, the transition to automated goal-setting tools has become essential. In this regard, ValueWorks offers a superior solution. With ValueWorks, you can seamlessly create and manage your OKRs directly. This not only simplifies the process but also enhances efficiency. The key advantage lies in the access to real-time Key Performance Indicators (KPIs) from all connected systems, enabling better-informed decision-making and more effective team collaboration. ValueWorks empowers you to work cohesively, align your efforts, and drive your objectives with precision. It's a leap forward in optimizing your OKR strategy for ultimate success. 
To provide a final overview,  we summarized the way to go for creating and managing good OKRs in 5 steps: 

OKRs are an influential and effective framework for advancing progress and establishing organizational alignment. Whether you're a budding startup or a well-established corporation, embracing OKRs and leveraging the right tools can sharpen your focus, enhance productivity, and cultivate a results-oriented culture throughout your organization. With the right software, you can optimize your OKR strategy and achieve exceptional outcomes. 
Boost your Journey with ValueWorks
Unlock your team's latent potential and chart a course toward greater success with OKRs through ValueWorks. Our user-friendly tools and templates make the process of setting and tracking objectives and key results easier than ever before. Begin your journey today and witness the transformation that effective goal-setting can bring to your organization.