Many companies have developed elaborate tools for the effective application of Objectives & Key Results in companies and organizations. However, we found that while some tools started integrating with other functional systems, none is fully integrated with the complete data cube that is available to companies. As a result, planning, execution, and reporting are disconnected and the resulting inefficiencies and misalignments create frustrations across all layers of the company. In this article, we want to introduce a path to complete integration of OKRs within the organization leading you from insights to results.
Nowadays, Objectives & Key Results (OKRs) are a well-known and broadly implemented goal-setting method, that found its way from innovative Bay Area companies such as Google to offices around the world. Soon thereafter, the first dedicated OKR software tools started emerging and their functionality was continuously expanded. Nowadays, they often offer a structured interface for creating, updating, and completing OKRs, many also provide ways to track progress via e.g., check-ins, and some even connect to other software in a company's software stack, e.g., Microsoft Teams or Slack. However, when researching the current OKR software market, we noticed something: No matter how advanced these tools are, they all have something in common: They are not (sufficiently) integrated with the rest of the organization, thus creating not only inefficiencies, but also disconnects between the company-wide planning and the actual implementation/performance.

We believe that through creating a bridge between the company's performance (i.e., the planning and actual results) and the goal setting, we can effectively close the gap between planning and execution. Therefore, we have embedded our own OKR module in our ValueWorks.ai software, a next-level executive management solution that supports data-driven decision-making. Through the integration we have created a number of significant value levers: 
When creating OKRs, the target value of KPI-connected Key Results (KRs) can be derived straight from the planning for the upcoming quarters (e.g., if churn rate is estimated to be 12% over the course of the year, we know that a realistic target value for next quarter's churn would be 3%, a number which is in return provided by the system). Thereby, the planning created by the management team is 1:1 translated into action in the OKR module- No more disconnects between planning and action!
All OKRs, that are connected to KPIs, are automatically updated as the reporting data in ValueWorks.ai is updated (either via a manual data upload or through one of our many system integrations, e.g., Salesforce). As a result, the users do not have to manually update the progress of their OKRs, and the amount of maintenance required for OKRs is drastically reduced.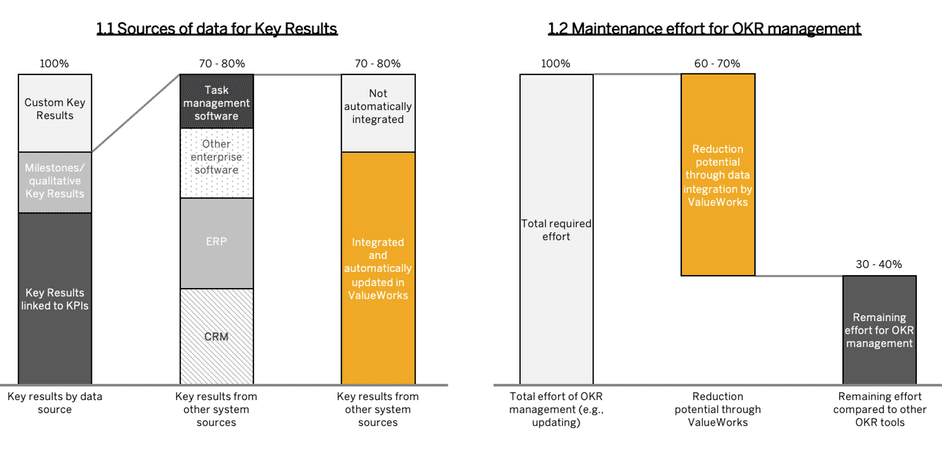 Figure: Sources of data & maintenance effort for OKR management
We have illustrated this in the graph displayed above. In 1.1 we see how on average 70 – 80% of all Key Results are either linked to KPIs tracked in ValueWorks or defined as Milestones. The majority of these Key Results can both be automatically updated through the data sources that are integrated within the ValueWorks ecosystem (e.g., CRM, task management software). Through the automatic updating of the data and thus the Key Results, the manual effort of OKR management can be significantly reduced, which is illustrated in 1.2.

Additionally, in our latest release, we introduced a number of new features that improve and integrate the whole process of using OKRs. More specifically, we have added two features, one that enables the OKR process, and a second one that goes the extra mile and builds the bridge.

Enabling feature: User roles and access rights. ValueWorks.ai contains all relevant information about your organization. Thus, it comes as no surprise that not everyone should be able to see all information. For this purpose, we have created and implemented a concept for user roles and their respective access rights. Your company admin can edit the roles of users in the account settings, which means everyone only sees exactly what she/he is supposed to see. This comes in especially handy for a company-wide rollout of the OKR module.
Extra-mile feature: OKR Scheduler. This handy feature helps you implement OKR in your organization. First, you set up a schedule for the things relevant to the OKR process, such as creating the OKRs, updating them periodically, or reviewing them at the end of an OKR cycle. Each item on the schedule will be assigned a date (e.g., beginning of the period) and a recurrence (e.g., bi-weekly for check-ins; probably not for the creation of OKRs). For this, you can either use one of our templates, or create your own schedules- Depending on the cadence and timing of your OKR process. The OKR Scheduler will then automatically send out reminders so the process requires minimal management and intervention during the OKR cycle.
Are you interested about learning more about the ValueWorks.ai solution? Or do you want to give us feedback on our approach to OKRs? Please feel free to contact us either way; We are happy to talk to you or demonstrate our software to you and your peers.