In this article, we discuss how best-in-class data-driven executive management looks like. We define executive management as tasks including the planning process, reporting & controlling, decision making and execution. All these areas can have varying degrees of maturity concerning data-driven management. In this blog article we introduce a quick maturity assessment so you can assess your company to a best-in-class setup.
1. What is data-driven management?
Executive management refers to management tasks done by the highest leadership level of a company. This includes planning, reporting, execution (OKR), early warning, issue-root-cause- identification, and subsequent action definition on company-level. 
In this context, data-driven executive management refers to these tasks being fully integrated and informed or enriched by all the internal and external data available to the company in a fully or semi- automated way using statistical and AI-based methods. The focus of this is to enable the manager to make smarter decisions, but also to eliminate repetitive tasks. 
2. Why data-driven executive management?
Data-driven management aims to improve the quality of insights and decisions and to increase further automation of management tasks. 
Compare it with an "intelligence augmentation" for your executives to free up time for other tasks that cannot be automated. 
Here are some use cases:
Industry-specific planning module with standard parameters to minimize customization need
Early warning if certain KPIs exceed certain threshold levels
Integration between planning, reporting and execution data to reduce manual copy-past errors
Utilization of benchmarking data to calibrate your performance against other companies in your 
3. What does a best-in-class data-driven executive management look like?
The shift towards data-driven management can be a long journey when done on your own.
We ask you to take a step back and go through the maturity checklist – which of the prerequisites of data-driven management no the right have you already ticked off?
The probability is high that your answer is: a few!
ValueWorks will help you find a pragmatic way to go on your" data-driven management" journey.
4. Data-driven management maturity checklist
To stay competitive, modern companies need to become more agile and develop new ways to lead the organization. Only when data is optimally integrated in all decisions, long-term growth and success can materialize. Use the following checklist to evaluate your readiness for the future of executive management.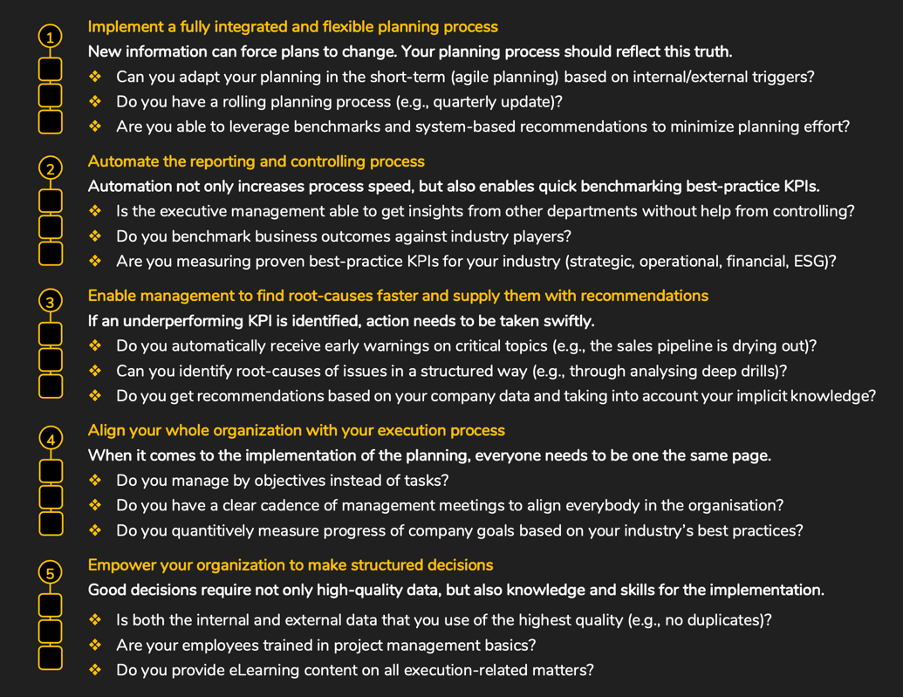 5. Where are you standing?
How many tickmarks did you make? If you have only ticked off 5 points or less, you are in good company. Most companies we interviewed are below that threshold level. There is a 4-step procedure that can help you elevate your level, which we will present in another blog post.