ValueWorks provides a cost-effective and significantly faster alternative to a traditional BI project to build appropriate enterprise control. ValueWorks reduces the total cost of ownership (TCO) by more than 50%. The following article presents a sample calculation.
The traditional approach in the area of business management is to build an individual solution using BI tools (e.g. Microsoft Power BI, Salesforce Tableau).
Often, the BI implementation project is preceded by a "strategy project" in which larger companies like to commission management consultancies (e.g. McKinsey, BCG, Bain) with the definition of the right key figures and ambition levels (often derived from industry benchmarks).
This approach is hardly viable for medium-sized companies or startups or scaleups due to the associated costs.
The scope of the business management solution would include the following elements:
reporting (including deep-drills based on a data warehouse, as well as the purchase of benchmarking data).
planning
infrastructure
The figure below shows the system architecture of a modern BI architecture: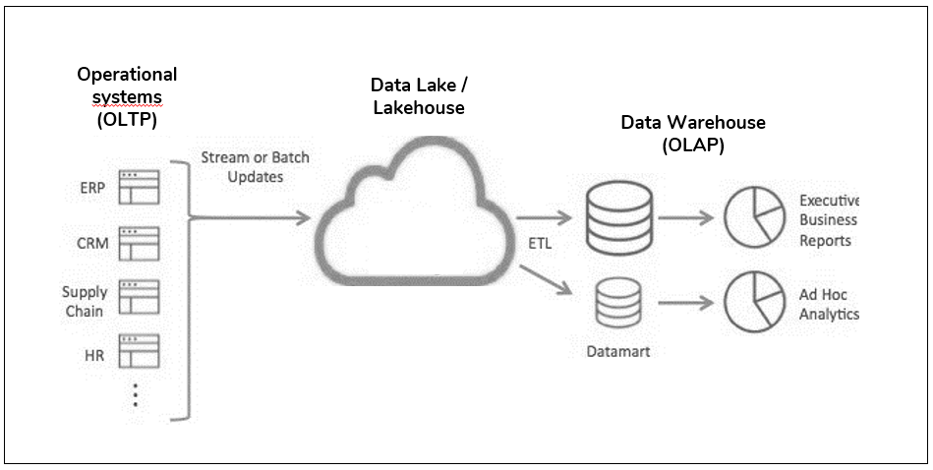 Enclosed we have shown the costs for a company with 50 users and €5-10 million in revenue: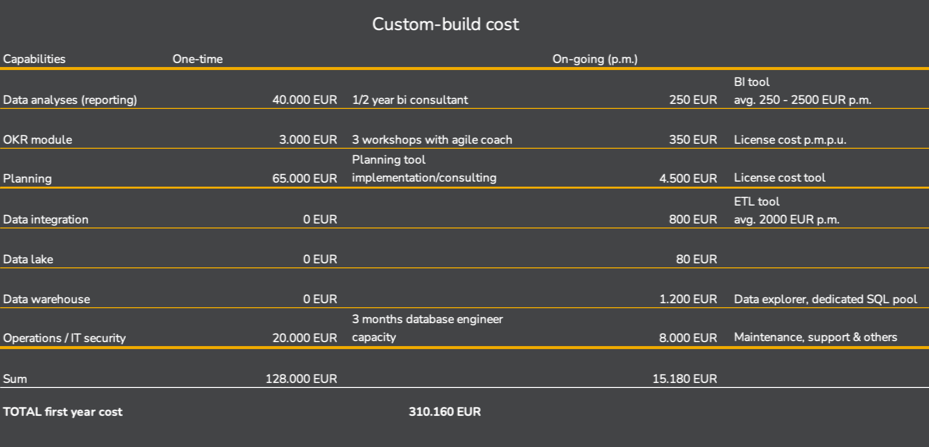 From the above figure, costs are expected to be one-time costs of €128,000 euros as well as ongoing costs of €15,000 euros per month.
The costs consist of mainly implementation, consulting and licensing and storage costs.
For a successful implementation of a reporting tool it often needs the support of a BI consultant (40,000 Euro for half a year of consulting), while already some workshops (3 hours workshop à 1000 Euro) for the OKR start can lead to success.
In the further course, monthly license costs for both applications arise, while additional monthly data integration costs for an Extraction Transformation Loading Tool (ETL) between 100 and 4000 Euro can be expected.
The costing is therefore highly variable and depends on the scope of the implementation.
ValueWorks, on the other hand, offers a standard software for enterprise control, which implies that the development costs are in principle shared among all customers, as well as that all customers benefit from the technical contributions of the other customers, each of which is included in the "standard".
ValueWorks can dramatically reduce the total cost of ownership through measures shown in the figure below: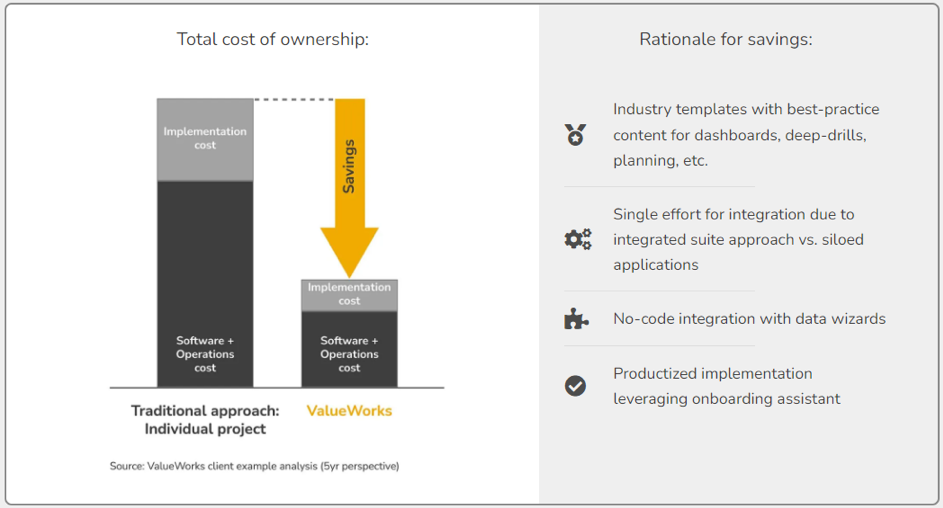 Besides the financial benefits, ValueWorks offers a much faster implementation. In a borderline case, the customer is live in 3 hours and sees his data in his own ValueWorks instance.

In addition, ValueWorks provides the collection of key dashboards and metrics as well as benchmarks per industry. Customers benefit from maintenance and continuous development of functionality and content, among others, fostered by a growing "community" of customers.