ValueWorks.ai was founded in 2020 by four co-founders. But in order to grow successfully, we established an Investors & Advisory Council that supports us on our growth journey with their advice and network.
Dear community,
We are happy to announce our Investors & Advisory Council with experienced leaders contributing based on their experience from:
Top management consultants (Bain & Company, McKinsey, Kearney, Deloitte)
Private equity investors (BC Partners, Vitruvian, …)
Software entrepreneurs and digital leaders (Trumpf, Zeiss, movingimage, …)
Technology corporations (Intel, Ericsson, Deutsche Telekom)
Academia (LMU Munich)
We are very proud that we could win the following individuals to support our growth journey with their advice and network: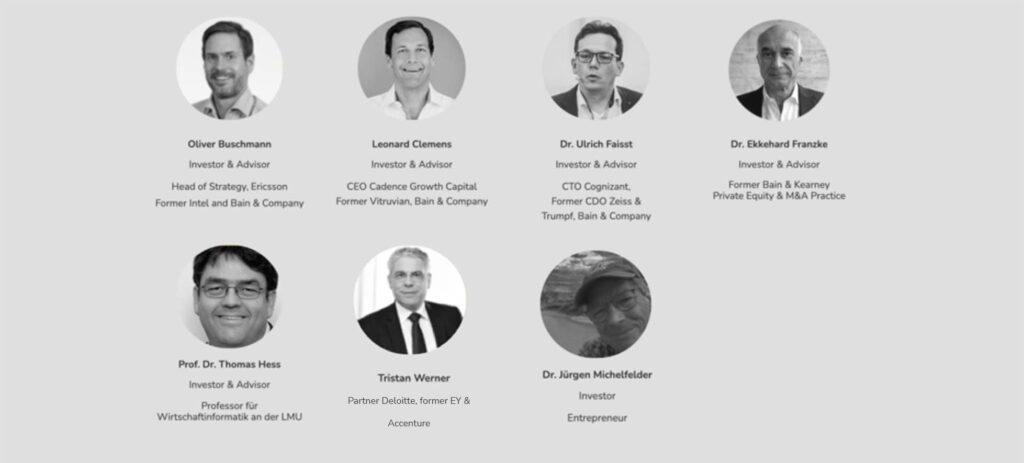 We appreciate our investors & advisory council because of their broad, diverse and independent viewpoint as well as their broad network in our customer base, partner & influencer ecosystem, talent pool and funding space.
We are in constant dialogue with our council members to discuss, validate and enrich our ideas, concepts and strategies around our product and the business growth.
In the list below you can find 3 videos with Wolfgang Faisst and several investors & advisors about our co-operation and engagement together
Interview with Leonard Clemens CEO at Cadence Growth Capital, Investor & Advisor at ValueWork.ai
Key statements:
From an investor perspective, we like to have more transparency on our portfolio companies' growth with the help of ValueWorks.
ValueWorks is supporting our portfolio companies to faster grow with the achieved transparency.
Interview with Prof. Thomas Hess Director at Institute for Information Systems and New Media at Ludwig-Maximilians Universität, Investor & Advisor at ValueWork.ai
Key statements:
ValueWorks is simple to use and observe and is dedicated to things which are really relevant for a manager.
ValueWorks is integrating a lot of sources or features which are typically divided on several systems.
Interview with Dr. Ekkehard Franzke Strategic and Corporate Finance,
Investor and Advisor at ValueWorks
Key statements:
ValueWorks is a comprehensive software, integrating planning, reporting and monitoring – very interesting for all PE investors to establish data driven management in their portfolio companies.